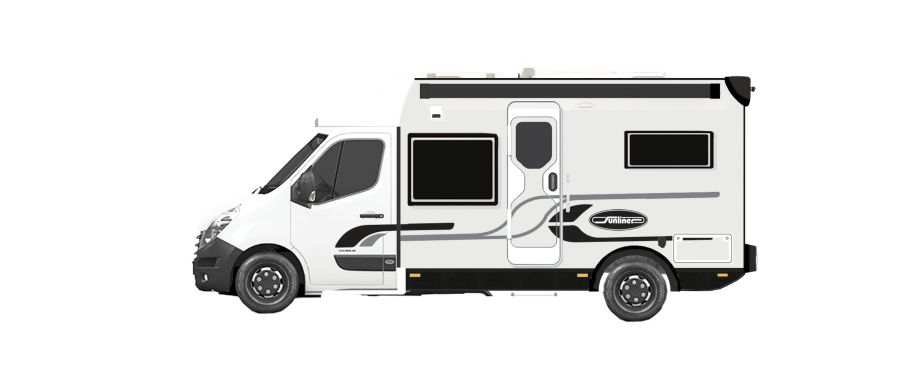 Sage
A compact motorhome designed for the solo traveller.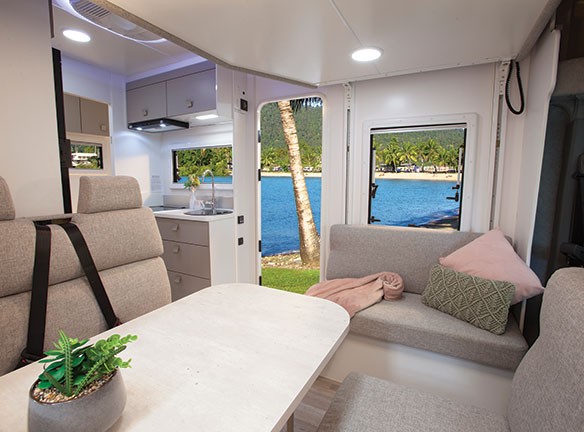 Compact and Secure
Small and perfectly formed! If you have a car license you can drive a Sage motorhome. At only 6.7m in length, it is easy to drive, park and manoeuvre.
The security needs of the solo traveller are catered for in the Sage, with the comfort of knowing you can transition from "home" to the driver's seat without ever leaving your RV. Extra standard features include external lighting and an RV security door.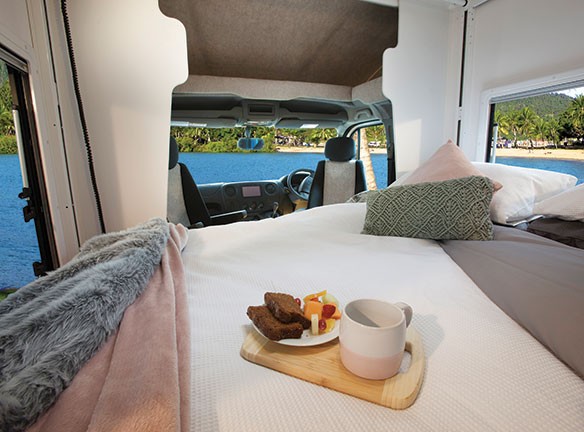 Self-contained, wherever you lay your head.
Enjoy the freedom of a fully self-contained motorhome and know you can travel where the road takes you. With a solar panel, three-way fridge, a full ensuite and 100 litres of fresh water you have the vehicle equipped to explore with independance.
Layouts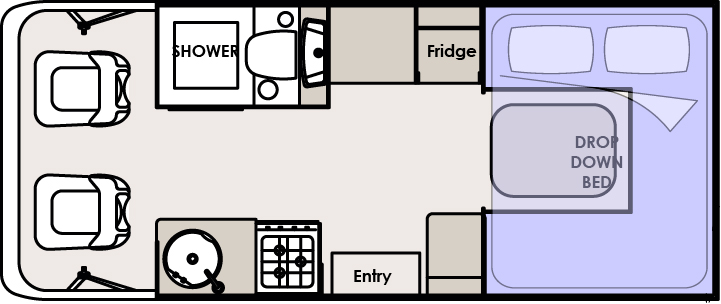 This layout is available in the following chassis options
Fiat Ducato X295 - 180hp
Renault Master X62 FWD
Fiat Ducato X295 - 150hp
Iveco Daily 35C

This layout is available in the following chassis options
Fiat Ducato X295 - 180hp
Renault Master X62 FWD
Fiat Ducato X295 - 150hp
Iveco Daily 35C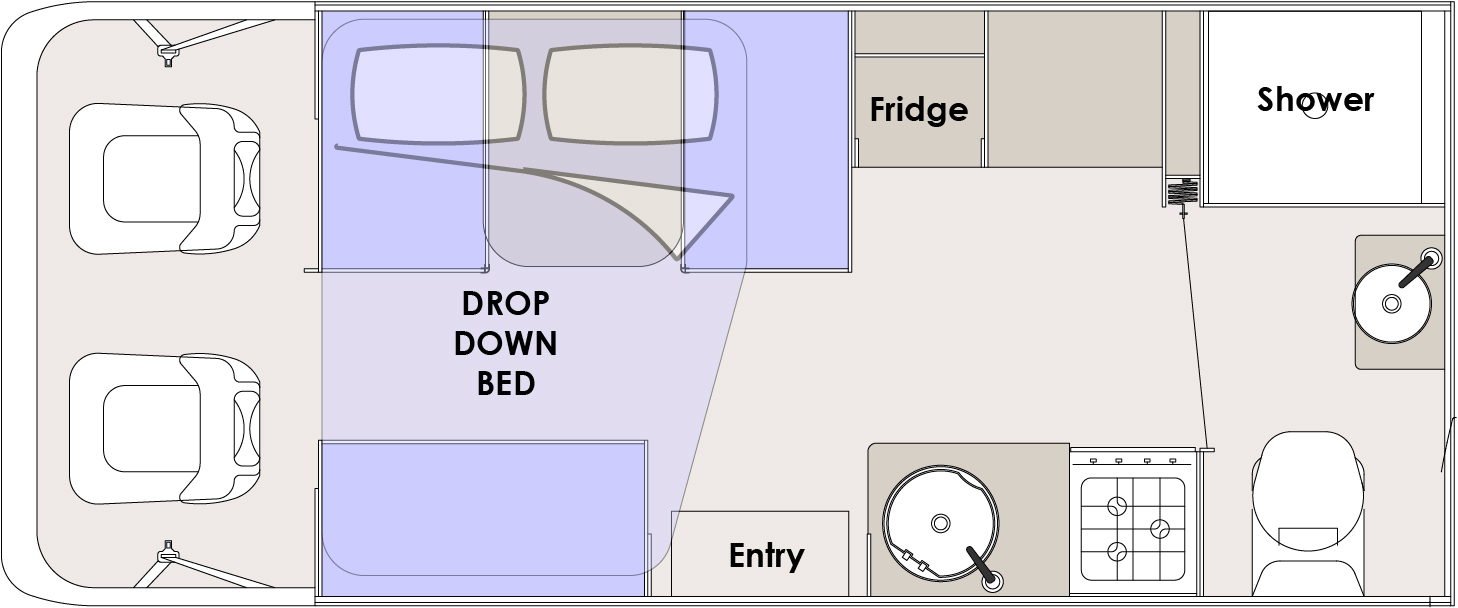 This layout is available in the following chassis options
Fiat Ducato X295 - 180hp
Renault Master X62 FWD
Fiat Ducato X295 - 150hp
Iveco Daily 35C

This layout is available in the following chassis options
Fiat Ducato X295 - 180hp
Renault Master X62 FWD
Fiat Ducato X295 - 150hp
Iveco Daily 35C
< Swipe for more layouts >
Specifications
| | |
| --- | --- |
| CABIN | |
| Drivers and Passenger Swivel Seat | Layout Specific |
| Cabin Seat Trim - Inserts Only | ✔ |
| Reverse Camera | ✔ |
| Rear wall mounted spare wheel | ✔ |
| KITCHEN | |
| Fridge - 3 way - 138Ltrs | ✔ |
| Stove Top and Oven | ✔ |
| Microwave | ✔ |
| Sink | ✔ |
| Kitchen High Tap | ✔ |
| Rangehood | ✔ |
| LIGHTING | |
| LED Ceiling and Strip Lights | ✔ |
| Awning Strip Lighting | ✔ |
| 270-degree security lighting | ✔ |
| POWER SYSTEM | |
| RV Power Management System | ✔ |
| 240V Charger | ✔ |
| In House Battery - 1 x 110 AH | ✔ |
| Solar Panel 80w | ✔ |
| USB charging point | ✔ |
| PLUMBING | |
| Cassette Toilet | ✔ |
| Vanity Tap | ✔ |
| Hot Water Service - Gas Instantaneous | ✔ |
| Fresh Water Capacity - 100 Ltrs | ✔ |
| Grey Water Capacity - 55 Ltrs | ✔ |
| Shower Rose and Mixer | ✔ |
| Gas Bottles - 2 x 4.5kg | ✔ |
| CLIMATE | |
| Air Conditioner | ✔ |
| Roof Hatch | ✔ |
| Diesel Central Heating - Option | O |
| EXTERNAL | |
| RV Entry Door with security screen | ✔ |
| Awning - Roll Out | ✔ |
| Windows - double glazed | ✔ |
| Electric Entry Step | ✔ |
| External Grab Handle | ✔ |
| ENTERTAINMENT | |
| 24" LCD TV | ✔ |
| TV Bracket | ✔ |
| Stereo with Internal Speakers | ✔ |
| TV Antenna - RV wind up | ✔ |
| FURNISHINGS | |
| Bed Mattress - Innerspring | SG402 |
| Comfort Foam Main Bed Mattress | SG403 |
| Privacy curtain between cabin and home | ✔ |
| Bed boards - on request | ✔ |
Expand