Sunliner Monte Carlo - The No Compromise Motorhome
Posted by Sunliner | News | July 04, 2017
The flagship of the Sunliner range, the Monte Carlo, sits in a class of its own.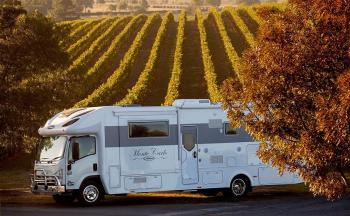 The Monte is fitted to the highest standard of uncompromised luxury, measuring over 9 meters in length and loaded with the latest technologies available, the Sunliner Monte Carlo is the "no compromise" RV.
Four slide-out rooms serve to create a spacious interior that feels more like an apartment than an RV. The interior styling of the Monte Carlo, with its insert timber cabinetry, mirrored surfaces, leather upholstery and featured lighting brings to mind the classic design of a luxury yacht, it certainly delivers on the promise of being designed with the discerning traveler in mind.
Our design principal for the Monte Carlo was to combine the simple pleasures of living life on the road with a level of luxury and comfort that is found in a 5 s5-startel.
The list of inclusions in the Monte Carlo is astonishing and includes a top loading washing machine, a coffee machine, three TVs, an outdoor kitchen and external entertainment system, and even a dressing room. We have fitted everything you could possibly want in a Motorhome into the Monte Carlo, and then added a few more!
If an RV that is simply "The best available" is what you want – then we invite you to
Share this page