On the Road with Sunliner Ambassadors Rhonda and Russell - Melbourne to Alice
Posted by Sunliner | News | May 18, 2015
Sunliner Ambassadors Rhonda and Russell share their journey from Melbourne to Alice Springs. Lots of suggestions and useful tips from the road.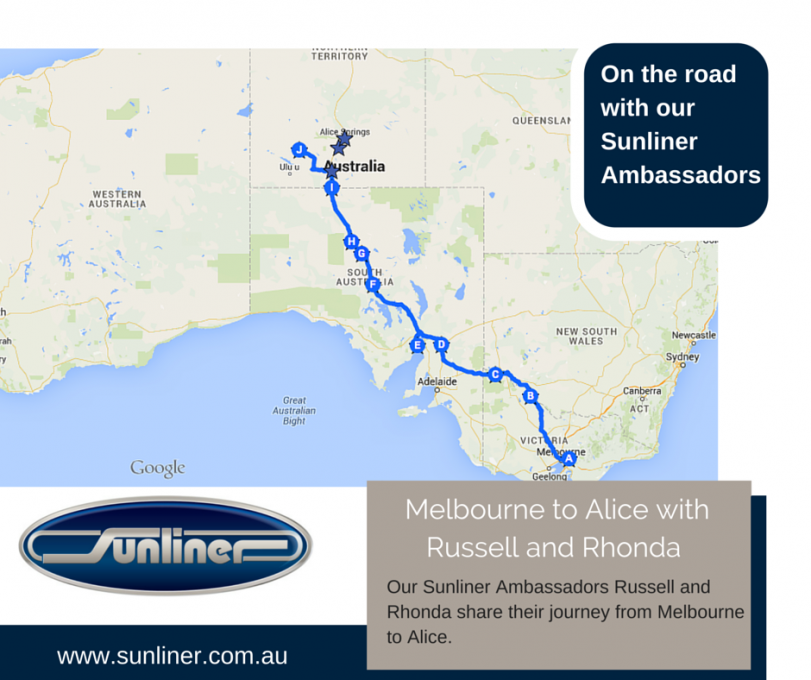 We left Lilydale in early April and travelled to Nyah, North of Swan Hill for our first overnight camp. The following morning it was onto Mildura where we overnighted at Lake Cullulleraine, about 50k's North West of Mildura.
The next stop was Peterborough, which has 2 free camps in the town for self-contained vans and motorhomes like our Sunliner Holiday G53. We took the opportunity to have a bit of a poke about and can recommend a visit to the Steam Train Museum and Meldonfield miniature display in the Town Hall both of which are a must see.
We decided to break up the journey a little with a three-night stay at Whyalla, an RV friendly town with lots of options. Unfortunately for us the weather was less then ideal!
Heading North again we returned to Port Augusta and filled up the tank at $1.209 to start our travel up the Stuart Hwy. We travelled to Bon Bon rest area just past Woomera and set up camp for the night, whilst we did not venture into Woomera on this trip, it is well worth the visit to the museum for those that has not been before
Next day we travelled up to Coober Pedy where we refueled at $1.499. It is worth noting that you can purchase water to fill your tank at filling station, which is next to the Information Centre at Coober Pedy. Not necessary for us this time we had been quite frugal with our water use.
We recommend giving yourself some time in Cooper Pedy as it is quite an interesting place to visit with their underground living, also great place to buy Opal jewelry from the miners.
After Coober Pedy it was another overnight stop at the Pootnoura and then across into Northern Territory with another overnight stop at the Border rest area. Well worth a stop especially with the view from our bed in our Sunny when we woke up at dawn, you would have to agree.
From the border it was onto Eridunda Roadhouse where after refueling at $1.78, we ventured off the Stuart Hwy for 277k's out to Kings Canyon. To our mind this is a must see for anyone travelling up the Stuart Hwy, we did not travel the additional 305k's to Uluru (Ayres Rock) as we went there on our last trip in 2012.
We stayed at the Kings Canyon Resort caravan park for 3 days and then it was back to Eridunda to refuel, fortunately due to the economy of our Sunliner we did not have to fill up at Kings Canyon Resort as the fuel price was $1.96.
Our next overnight stop was a rest area about 60k's south of Alice Springs. Our final destination (for this leg) is the Stuart Caravan Park in Alice Springs for 7 days. A highlight will be the chance to attend the dawn service on Anzac Hill, Alice Springs.
From the road…..
Rhonda & Russell
Share this page