Sunliner RV returning "Home" to New Zealand
Posted by Sunliner | News |
Sunliner RV is excited to announce that in March 2015 The Sunliner range of premium Motorhomes, Campervans and 5th Wheelers will once again be on sale in New Zealand. This marks a return "home" for this Australian RV manufacturer with strong Kiwi roots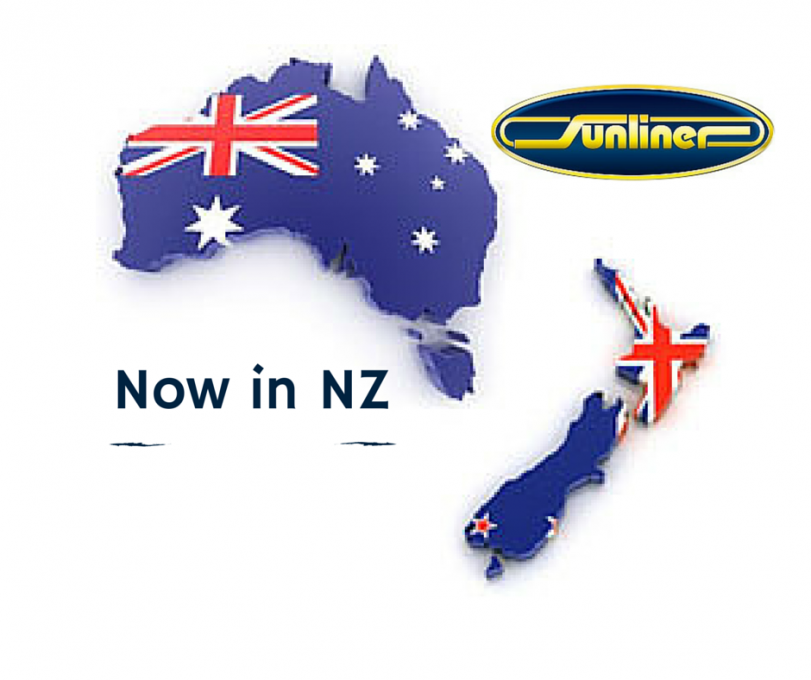 Sunliner RV is excited to announce that in March 2015 The Sunliner range of premium Motorhomes, Campervans and 5th Wheelers will once again be on sale in New Zealand. This marks a return "home" for this Australian RV manufacturer with strong Kiwi roots.
"Sunliner has more then a little Kiwi blood running in its veins. My Mum and Dad are both from the Bay of Plenty and started Sunliner over 40 years ago. They travelled to Melbourne on a working holiday, saw an opportunity to build beautiful RVs and ended up staying. Sunliner RVs might be Australian made but there is still a lot of New Zealand heritage built into every one." said Nick Hunter Managing Director of Sunliner RV.
Sunliner is re-launching itself back into the New Zealand market after taking a two-year break. "In the 2012 the Australian / NZ exchange rates made it challenging for us to do business in New Zealand. But we always knew we would be back, we have so many loyal Sunliner customers here." Stated Mr Hunter.
Sunliner RV will be showcasing their 2015 range of premium Motorhomes and 5th Wheelers at the Auckland Caravan and Outdoor Supershow on the 13th of March 2015. On display will be Sunliners most popular models; the Twist, the Pinto, the Vibe, the Holiday H507 and the new Sunliner Northshore 5th Wheeler.
Three local dealers have been appointed to retail the range. Auckland Motorhomes will service the North and Freedom RV from Christchurch taking care of the South. On the Way RV in Mount Maunganui will be the exclusive 5th Wheeler-dealer, rounding out the Sunliner RV sales network.
"We hope the New Zealand market is going to fall in love with these new vehicles. They are not only functional and beautiful high quality RVs, they are also tough, really built to withstand our unique conditions and roads. Their quality and strength is tangible." enthused Dan Monk Dealer Principal of Auckland Motorhomes.
"New Zealand is a second home for us. I can't tell you how much it means to us to be able to bring Sunliner RV's back to New Zealand" concluded Mr Hunter.
Share this page